Press
Great White and Slaughter Return
Rivers Casino
Press Release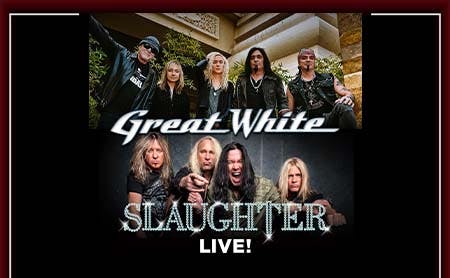 Apr 28, 2023
Classic Hard Rockers Great White and Slaughter Coming to Rivers Casino & Resort Schenectady in October
Schenectady, NY (April 28, 2023) – Rock fans will be pumping their fists, singing along, and breaking out the air guitars when Great White and Slaughter hit the Rivers Casino & Resort Schenectady Event center stage on Friday, October 27, 2023. Both bands will be bringing the hits for an unforgettable night of hard rock classics.
Tickets go on sale on Monday, May 1 at 10 a.m. Tickets start at $45, plus taxes and fees, and will be available at RiversCasino.com/Schenectady. Doors open at 6 p.m. and the show starts at 7 p.m.
Great White, the band behind arena hits "Once Bitten, Twice Shy," "Rock Me," "Save Your Love," and "The Angel Song", has grittily blended blues and rock since they first burst onto the scene in the early 80's. Great White has sold over 10-million albums worldwide, has six Top 100 Billboard hits, nine Top 200 Billboard albums, two platinum albums, and clocked the top of MTV four times. From an early gig at the famed Los Angeles' Troubadour, to sharing arena stages with rock's biggest names like Judas Priest, Whitesnake, Scorpions, to globetrotting alongside contemporaries Slaughter, Vixen, Skid Row, Vince Neil and more – Great White continues to bring its exhilarating live performance to the masses.
Slaughter first struck gold in 1990 when their debut album, Stick It to Ya, went double-platinum and included Billboard Magazine's Hot 100 hits "Up All Night," "Fly to the Angels," and "Spend My Life". The band followed up their hit debut with Stick it Live, a five song EP showcasing their live prowess, that quickly went gold. Slaughter then released their second studio record, The Wild Life, which entered the Billboard charts the first week of release in the top ten at #8 and was shortly certified platinum. Rocking fans for over 30-years, Slaughter continues to tour, performing 40 to 50 shows a year at casinos, fairs, and festivals throughout the world, including shows in Sweden, Japan, Mexico, and Germany.
The Rivers Casino & Resort Schenectady Event Center is just steps away from the casino gaming floor and The Landing Hotel. For more details about upcoming entertainment, and to make reservations at The Landing Hotel, please visit RiversCasino.com/Schenectady.
About Rivers Casino & Resort
Located at the picturesque Mohawk Harbor near the heart of downtown Schenectady, Rivers Casino & Resort Schenectady features 1,050 slots, 66 live table games, a 16-table poker room and a live, in-casino luxury sportsbook lounge. The casino offers five distinctive restaurants—among them are Dukes Chophouse, Flipt, Johnny's To-Go and Mian. Rivers features a multipurpose Event Center space, a lively entertainment lounge—Van Slyck's, live music performances, free parking and daily promotions and giveaways. The Landing Hotel is a 165-room, six-story boutique hotel with riverfront views located adjacent to the Event Center. Rivers, which opened in 2017, employs approximately 1,000 team members and has been voted a great place to work in Schenectady. Rivers Casino & Resort Schenectady is owned and operated by Rush Street Gaming and its affiliates. For more information, visit RiversCasino.com/Schenectady
Media Contacts:
Al Roney - (518) 986-6650
Andre Claridge (518) 424-2575
YOU MAY ALSO LIKE...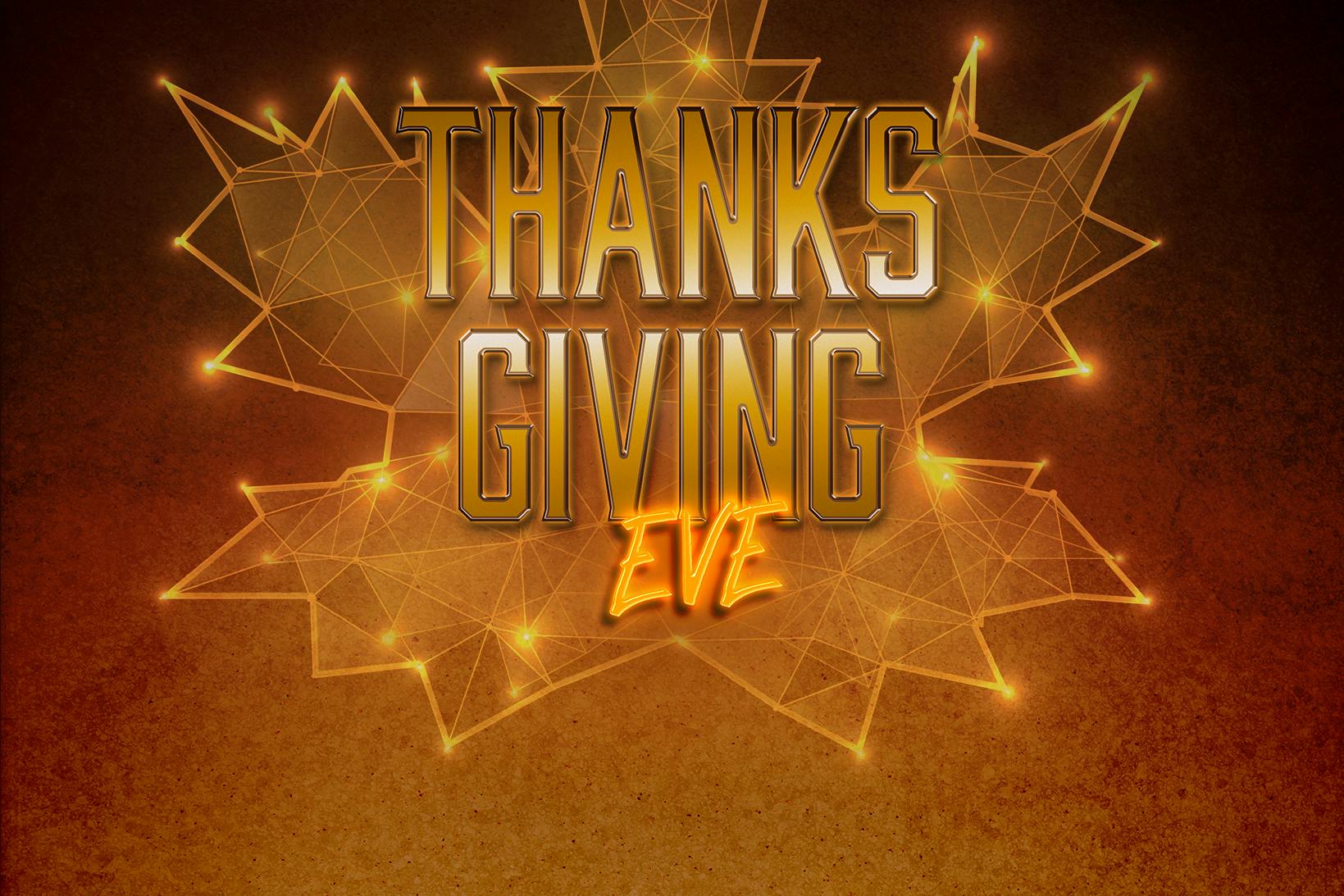 Thanksgiving Eve Country Rock Party
With Skeeter Creek, Big Sky Country, and DJ Kevin Richards
View Details