Privacy Policy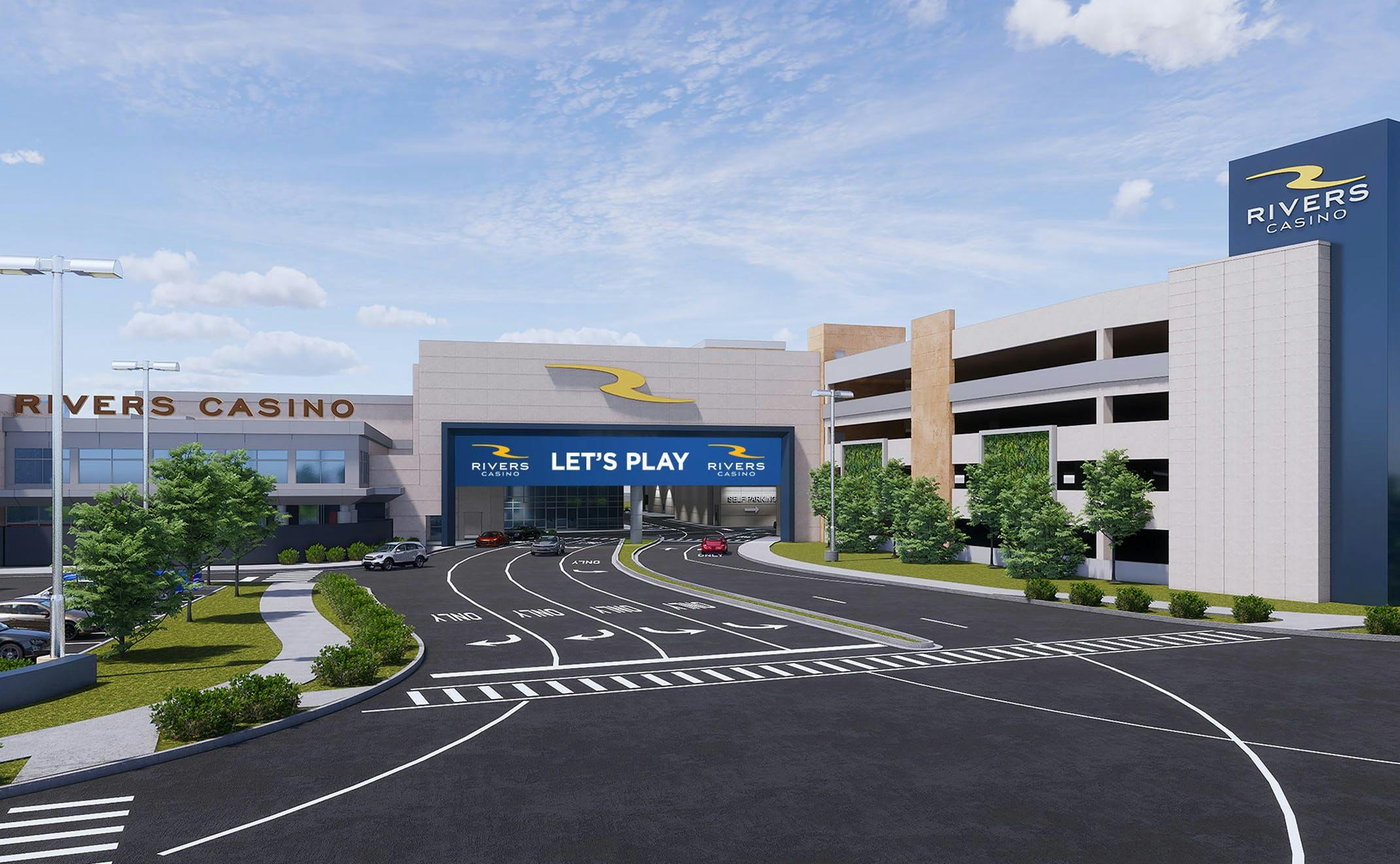 Last Updated: November 1, 2022
Midwest Gaming & Entertainment, LLC, d/b/a Rivers Casino ("Rivers Des Plaines"), with a casino property located at 3000 S. River Rd., Des Plaines, IL 60018 (the "Property"), has created this Privacy Policy ("Privacy Policy" or "Policy") to apply to (i) all users of this website https://www.riverscasino.com/desplaines/, our mobile application, social media channels, and all digital assets contained or offered therein (collectively, our "Services"), and (ii) all visitors to our Property.
This Privacy Policy describes, among other things, the types of information we collect about you when you visit and use our Services and Property, how we use your information, and how you can access your information. 
By using the Services and visiting our Property, you acknowledge that you have read and understand this Privacy Policy and consent to the information collection and handling processes described in this Privacy Policy and to the updates to these policies posted here from time to time.  Updates will be referenced by the "Last Updated" date shown at the end of this Policy.  We encourage you to review the Privacy Policy whenever you access our Services or visit our Property to stay informed about our information practices.  
This Policy is integrated into our Terms & Conditions of Use ("Terms & Conditions").  
INFORMATION WE COLLECT ABOUT YOU 
We may collect the following types of information about you which are described in more detail below: (A) information you provide to us, (B) information we may automatically collect, and (C) information we may receive from third parties.  All the information listed in (A)–(C) above, is detailed below, and hereinafter referred to as "Information."  
Information You Provide to Us 
In using our Services, you may be required to provide us with Information, including, without limitation: 
Your name;
Telephone number;
Home Address;
Email address;
Account information and log in credentials, including unique identifiers such as username and password;
Demographic information such as age, date of birth and ethnicity; 
Identification information, such as driver's license, passport, or military ID;
Social Security Number;
Employment information (such as current occupation and employment history); 
Your Rush Rewards player card number; 
Financial account information;
Testimonial or survey information you provide; and/or
Additional information as otherwise described to you at the point of collection or pursuant to your consent.
Information We May Automatically Collect About You 
When you use our Services, we may automatically collect certain Information about you.  We use this Information to help us design our Services to better suit our users' needs or as otherwise required by law.  This Information may include: 
Log Information
We may collect log information about your use of the Services, including: 
IP address, which is the number associated with the service through which you access the Internet, like your ISP (Internet service provider);
Type of Internet browser; 
Date and time of your visit or use of our Services;
Domain server from which you are using our Services;
Type of computer, web browsers, search engine used, operating system, or platform you use;
Data identifying the web pages you visited prior to and after visiting our website or use of our Services;
Your movement and activity within the website, which is aggregated with other information.
Device Information 
We collect Information about the computer or mobile device you use to access our Services, including:
Mobile device information, including the type of device you use, operating system version, and the device identifier (or "UDID"); and
Mobile application identification and behavior, use, and aggregated usage, performance data, and where the application was downloaded from.
Location Information
We may collect Information about the geo-location of your device each time you access or use one of our mobile applications.  For example, we may collect (directly or through third parties) information about the websites you visit, the type of device and browser you are using, your device identification number, your precise physical location, bandwidth used, session time, etc.  
Activities on our Property
We may also collect Information about your activities automatically when you visit us at our Property.  For example, we may collect vehicle information when you drive an automobile onto our Property, including without limitation your license plate number and vehicle make and model.  We also make use of video surveillance and audio recordings.  We use the Information described in this section to detect, prevent, and address security issues and fraud occurring on our Property and may share it with law enforcement when required by relevant authorities. 
Information We May Receive from Third Parties 
Third-Party Websites and Social Media Platforms
We may collect additional Information about you from third-party websites, social media platforms, such as, but not limited, to Facebook, Twitter, Instagram, and Pinterest ("Social Media Platforms"), in accordance with your privacy settings on those Social Media Platforms, and/or sources providing publicly-available information (e.g., from the U.S. postal service) to help us provide Services to you, help prevent fraud, and for marketing and advertising purposes.  
Information we may access about you, with your consent, may include, but is not limited to, your basic Social Media Platform information, your location data, your list of contacts, friends or followers, and certain information about your activities on the Social Media Platform.  Please keep in mind that when you provide Information to us on a third-party website or platform (for example, via our applications), the Information you provide may be separately collected by the third-party website or the Social Media Platform.  
The Information we collect is covered by this Privacy Policy, and the Information the third-party website or Social Media Platform collects is subject to the third-party website or platform's privacy practices.  We encourage you to be aware when you leave our sites or applications and to read the privacy policies of other sites that may collect your Information.
BetRivers and Other Third-Party Gaming Platforms 
If you participate in activities on BetRivers-branded gaming platforms or other sports betting, poker, or casino games platforms, we may obtain Information from other parties which includes Information related to your BetRivers or other gaming account(s) including Information that we need to make services available to you and/or to associate your BetRivers (or other gaming) account(s) and your Rush Rewards loyalty program account.  These third-party platforms are subject to their own privacy practices and terms (e.g., see BetRivers Terms of Service here). 
State and Reporting Agencies
When you submit a credit application with us, we may collect Information about you from consumer reporting agencies in order to process the application.  We may also collect Information from state agencies regarding an individual's gambling history, which we use to confirm whether an individual can legally or safely remain on our Property.  We are not the custodian of Information we receive from state and reporting agencies and have no liability with respect to the accuracy of such Information.  You will need to contact the organization that maintains these records if you want to correct, remove, or make this Information unavailable. 
COOKIES & TECHNOLOGIES USED TO COLLECT INFORMATION ABOUT YOU
When you use our Services, we may use certain technologies, such as cookies, flash cookies, application program interfaces, web beacons, pixels, tags, and other technologies to collect Information.  Definitions for some of the tracking technologies listed are available below.  Third-party service providers, advertisers, and/or partners may also view, edit, or set their own cookies or utilize their own tracking technologies.  
Cookies (or browser cookies).  We use cookies to increase the functionality and your ease of use with our Services.  A cookie is a piece of data stored on your hard drive that contains information about your computer and Internet use.  To enhance your experience, cookies may be used to track and target your interests.  You can always choose to not accept cookies.  Unless you have adjusted your browser setting so that it will refuse cookies, our system will issue cookies when you direct your browser to our website.  If you choose not to accept cookies, you may still browse our Services, however you will be unable to order or have access to all our Services.
Web Beacons.  Website pages may contain small electronic files known as web beacons (also referred to as clear gifs, pixel tags, and single-pixel gifs) that permit us, for example, to count users who have visited those pages and for other related statistics (for example, recording the popularity of certain content and verifying system and server integrity).  We also use these technical methods to analyze the traffic patterns, such as the frequency with which our users visit various parts of the Services.  These technical methods may involve the transmission of Information either directly to us or to a third party authorized by us to collect Information on our behalf.  Our Services use retargeting pixels from Google, Facebook, and other ad networks.  We also use web beacons in HTML emails that we send to determine whether the recipients have opened those emails and/or clicked on links in those emails. 
Mobile Device Identifiers.  Certain mobile service providers uniquely identify mobile devices and we, our partners, or our third-party service providers with whom we contract may receive such device information if you access the website through a mobile device.  Certain features on the Services may require collection of mobile phone numbers and we may associate that phone number to mobile device identification information.  Additionally, some mobile service providers operate systems that pinpoint the physical location of devices that use their services.  Depending on the provider, we, our partners, or our third-party service providers may receive this Information.
Embedded Scripts.  An embedded script is programming code designed to collect Information about your use of the website included in our Services, such as the links you click on.  The code is temporarily downloaded to your computer from our web server or a third-party provider, is active only while you are connected to the website and is deactivated or deleted once you leave the website.
Analytics.  We use tools such as Google Analytics, a web analytics tool provided by Google that helps websites and Services collect and analyze information about how visitors use and interact with their sites and services and based on information collected and analyzed through Google Analytics websites and Services can measure the performance of and make improvements to their sites and services.  Google Analytics uses first-party cookies to track visitor interactions on our website and to collect information about how visitors use the website.  We use the information collected through Google Analytics to help us understand the demographics, usage patterns and interests, trends, etc. about visitors to the website.  Google Analytics collects and reports usage information anonymously without identifying any particular visitor individually.  Google's ability to use and share information collected by Google Analytics about your visits to the website is subject to the Google Analytics Terms of Use published at http://www.google.com/analytics/terms/us.html and the Google Privacy Policy published at http://www.google.com/intl/en/policies/privacy/.  Disabling cookies on your browser may be able to prevent Google Analytics from recognizing you on return visits to the website.  Google also offers a browser add-on for users to install to opt out.
Do Not Track Signals.  We do not track our visitors across third-party websites to provide targeted advertising and therefore we do not respond to Do Not Track ("DNT") signals.  However, some third-party sites do keep track of your browsing activities when they serve you content, which enables them to tailor what they present to you.  If you are visiting such sites, your internet browser may allow you to set the DNT signal on your browser so that third parties (particularly advertisers) know you do not want to be tracked.

HOW WE USE YOUR INFORMATION 
Use and Purpose of Processing Your Information
HOW WE USE YOUR INFORMATION 
Use and Purpose of Processing Your Information
We use and process your Information for things that may include, but are not limited to, the following: 
To provide you with the Services and related information you request, 
To facilitate your use and enjoyment of the services we provide on the Property;
To process your application when sign up for Rush Rewards account;  
To provide you with a win loss statement; 
To facilitate cash outs and payment of jackpot winnings;
To process cash advances and credit lines;
To carry out appropriate compliance, security, and/or financial checks, including to confirm your identity, make or receive payments from you, or to comply with law enforcement, court, and regulatory obligations;
To offer and operate the Rush Rewards loyalty program and related player support; 
To process online reservations, including to facilitate payment and orders for dining and meeting rooms you have reserved.
To facilitate online food and beverage orders, including take-out orders;
To respond to your inquiries about the Services and Property and to provide you with requested information and other communications, including by email or text messages, and including alerts, notification of promotions, offers, bonuses, entertainment, and/or other events;
To subscribe you to our text messaging program; 
To fulfill contracts we have with you;
To process and deliver contest entries, rewards, and surveys;
For general or targeted marketing and advertising purposes, including sending you promotional material or special offers on our behalf or on behalf of our marketing partners and/or their respective affiliates and subsidiaries and other third parties, provided that you have not already opted-out of receiving such communications;
To manage, improve, and foster relationships with third-party service providers, including vendors, suppliers, and parents, affiliates, subsidiaries, and business partners;
To maintain, improve, customize, or administer the Services, perform business analyses, or other internal purposes to improve the quality of our business, the Services, resolve technical problems, improve security, or develop and provide other services;
To protect the safety, security, fraud prevention, and other related purposes for Services;  
To protect our Property;
To improve our Services and resolve any technical problems, including technical notices, updates, security alerts, and support and administrative messages;
To analyze the use of the Services and Information about visitors to our website to understand and improve our offerings and, in accordance with our sharing policies discussed below, to produce anonymous or aggregated data and statistics that might help third parties develop their own service offerings;
To customize the content you see when you visit the website, including to develop and provide advertising tailored to your interests;
For analytics for business purposes and business intelligence;
To process and evaluate your application for employment (through our third-party);
Comply with our Terms & Conditions;
To comply with any applicable laws and regulations and respond to lawful requests; and/or
For any other purposes disclosed to you at the time we collect your Information and/or pursuant to your consent.

Sharing Your Information
We may share your Information as set forth in this Privacy Policy in the following circumstances:
Third-Party Service Providers.  We may share your Information with third-party vendors and service providers that perform certain functions or services on our behalf (such as to host the Services, manage databases, perform analyses, provide customer service, send communications for us, ticketing services for entertainment and other events promoted on the Services, facilitate reservations and food orders at our Property, and process job applications).  These third-party service providers are authorized to use your Information only as necessary to provide these services to us.  In some instances, we may aggregate Information we collect so third parties do not have access to your particular Information to identify you individually. 
Third-Party Partners for Marketing Purposes.  On occasion, we may share our customer mailing list with select third-party advertisers and list brokering networks and analytic providers.  If you would like to be removed from the list, please email us at

[email protected]

.  Please be sure to include the name and address where we are currently sending marketing materials and specifically what type of information you do not want to receive. 
Disclosure of Information for Legal and Administrative Reasons.  Disclosure of Information for Legal, Administrative, and Regulatory Reasons.  We may disclose your Information without notice: (i) when required by law or to comply with a court order, subpoena, search warrant, or other legal process; (ii) to cooperate with or undertake an internal or external investigation or audit; (iii) to comply with legal, regulatory, or administrative requirements of governmental authorities (including, without limitation, requests from the governmental authorities to view your Information) or the relevant gaming authorities (e.g., Illinois Gaming Board); (iv) to protect and defend the rights, property, or safety of us, our subsidiaries and affiliates, and any of our or their officers, directors, employees, attorneys, agents, contractors and partners, and the Services users; (v) to enforce or apply our Terms of Service; and (vi) to verify the identity of the user of our Services.  
Business Transfers.  Your Information may be shared, transferred, sold, or otherwise conveyed ("Conveyed") to a third party in connection with, or during the negotiation of: (i) a merger with or acquisition by another business entity; (ii) a financing; (iii) a sale of sell all or substantially all of our assets; (iv) an adjudication of bankruptcy; or (v) a liquidation or other reorganization.  You agree to any and all such Conveyances of your Information.
Information Shared with our Subsidiaries and Affiliates.  We may share your Information with our subsidiaries and affiliates.  If you do not want us to share your Information with our subsidiaries and affiliates, please email us at

[email protected]

. 
Online Communications.  We may decide to allow users to voluntarily share comments, participate in surveys or contests, complete a service or event review, or provide us with information regarding their experience.  If you choose to voluntarily provide such information to us, the information that you submit may be available generally to the public and will not be returned to you unless we receive such a request.  Information that you provide in these areas may be read, collected, and used by others who access them. 
De-Identified or Aggregated Data.  We may aggregate, anonymize, and/or de-identify any Information collected from you so that such Information can no longer be linked to you or your device.  We may use aggregated, de-identified, or anonymized Information for any purpose, including without limitation for research and marketing purposes, and may also share such data with any third parties, including advertisers, promotional partners, and sponsors, in our discretion. 
With Your Consent.  We may share Information consistent with this Privacy Policy with your consent. 
LINKS TO OTHER WEBSITES 
Our Services may contain links to other websites or services that are not owned or controlled by us, including links to Social Media Platforms such as Facebook, Twitter, Instagram, and Yelp, or may redirect you off our website away from our Services to other websites for information, other services, or to receive special offers, contests, games, sweepstakes, or for transactions or purchases.  These other websites may send their own cookies to you, independently collect data, or solicit personal Information and may or may not have their own published privacy policies.  If you visit a website that is linked to our Services, you should consult that website's privacy policy before providing any Information.
This Privacy Policy only applies to Information collected by our Services.  We are not responsible for the privacy and security practices of those other websites or Social Media Platforms or the Information they may collect (which may include IP address).  You should contact such third parties directly to determine their respective privacy policies.  Links to any other websites or content do not constitute or imply an endorsement or recommendation by us of the linked website, Social Media Platform, and/or content.
INFORMATION SECURITY 
We use commercially reasonable measures to provide our Services.  However, you should assume that no data transmitted over the Internet or stored or maintained by us or our third-party service providers can be 100% secure.  Therefore, although we believe the measures implemented by us reduce the likelihood of security problems to a level appropriate to the type of data involved, we do not promise or guarantee, and you should not expect, that your Information or private communications will always remain private or secure.  We do not guarantee that your Information will not be misused by third parties.  We are not responsible for the circumvention of any privacy settings or security features.  You agree that we will not have any liability for misuse, access, acquisition, deletion, or disclosure of your Information.
If you believe that your Information has been accessed or acquired by an unauthorized person, you shall promptly contact us How to Contact Us so that necessary measures can quickly be taken.
DATA RETENTION
We store and maintain your Information for the purposes for which it is processed by us.  The length of time for which we retain Information depends on the purposes for which we collected and use it and/or as required to comply with applicable laws.
HOW WE WILL CONTACT YOU
You agree that we, our affiliates, and/or third-party service providers with whom we collaborate and contract, may communicate with you regarding our Services and Property via electronic messages, including email, text message, or mobile push notification to, for example, send you information relating to our Services and Property that we think may be of interest to you, communicate with you about contests, special offers, promotions, bonuses, upcoming events, and other news about services provided by or through us through permissible targeted advertisements offered by us, our parent companies, our subsidiaries, our affiliates, and other business partners.  See Your Choices, below, for how you can update the way we contact you.
YOUR CHOICES
Rush Rewards Program Members
To update your marketing preferences (including opting out of receiving marketing solicitations from us), please visit: https://www.riverscasino.com/desplaines/casino/rush-rewards.  You can update your communication preferences, including e-mail and postal mailings, and changing your address by filling out the "Rush Rewards Account Change Request Form".  See Opting Out of Direct Marketing below for more details on how to opt out of having your Information shared with third parties for direct marketing purposes.
Email  
By using our Services, you agree that we may contact you by email as set forth herein.  If you do not want to receive marketing and promotional emails from us, you may click on the "unsubscribe" link in the email to unsubscribe and opt-out of future marketing email communications or How to Contact Us.  If you opt out, we may still send you transactional or relationship messages, such as emails about our ongoing business relations.
Mobile Push Notifications  
By using our Services, you agree that we may contact you by calling or sending messages to your phone.  You can use the settings on your mobile device to enable or turn off mobile push notifications from us or contact us at 888-307-0777.
Text Messages
On our Services, you may voluntarily sign up to receive text messages from Rivers Casino or third-party service providers on behalf of Rivers Casino.  By signing up for text messaging services or otherwise opting in to receive text messages (opting in via short code or entering your phone number into an on-site collection widget), you agree that you have provided to Rivers Casino, our partners, or our third-party service providers with prior express written consent to be contacted by text message, including recurring automated promotional and personalized text messages before we contact you.  Your consent is not a condition of any of our Services and your consent to be contacted is described as voluntary.  The number of text messages you receive may vary based upon the text messaging service(s) you sign up for.  Message and data rates may apply.  If you no longer want to receive text messages from us, reply STOP (or as otherwise instructed) in the text message or by contacting us.
Location Choices 
You can change the privacy settings of your device at any time to turn off the sharing of location information with our Services.  If you choose to turn off location services, this could affect certain features or services of our Services.  If you have specific questions about the privacy settings of your device, we suggest you contact the manufacturer of your device or your mobile service provider for help.
Opting Out of Direct Marketing  
To exercise choices regarding the marketing information you receive, you may also review the following links: 
You may opt-out of tracking and receiving tailored advertisements on your mobile device by some mobile advertising companies and other similar entities by downloading the App Choices app at www.aboutads.info/appchoices.
You may opt-out of receiving permissible targeted advertisements by using the NAI Opt-out tool available at http://optout.networkadvertising.org/?c=1 or visiting About Ads at http://optout.aboutads.info.
You can opt-out of having your activity on our Services made available to Google Analytics by installing the Google Analytics opt-out add-on for your web browser by visiting: https://tools.google.com/dlpage/gaoptout for your web browser.

AGGREGATE AND DE-IDENTIFIED INFORMATION
We may aggregate, anonymize, and/or de-identify any Information collected from you so that such Information can no longer be linked to you or your device.  We may use aggregated, de-identified, or anonymized Information for any purpose, including without limitation for research and marketing purposes, and may also share such data with any third parties, including advertisers, promotional partners, and sponsors, in our discretion.
ACCESSING, CORRECTING, OR DELETING YOUR INFORMATION
To the extent state laws provide users with certain data subject rights, those rights may be honored by the Company following proper authentication and verification.  Please see How to Contact Us below for more information.
CHILDREN'S INFORMATION
The Services are intended for a general audience.  Any offers we make or any promotions we conduct through use of our Services or at our Property, unless otherwise noted, are not open to individuals not of the applicable legal age to form a binding agreement.  If you are under twenty-one (21) years old, you may not loiter, visit, or gamble at the Property 
We do not target our Services to individuals who are under twenty-one (21).  You agree that you are not under twenty-one (21) years of age.  We do not intend to collect or process any information from anyone under the age of twenty-one (21).  If we become aware that a user under twenty-one (21) visits or uses our Services and has provided us with Information, we will take steps to comply with any applicable legal requirement to remove such Information.  Contact us if you believe that we have mistakenly or unintentionally collected Information from an individual under the age of twenty-one (21).
GEOGRAPHIC LOCATION OF DATA STORAGE AND PROCESSING 
Our Services are operated in the United States, so your Information may be transferred to, stored, or processed in the United States.  Please be aware that Information, including personal data, that we collect will be transferred to, stored, and processed in the United States, a jurisdiction in which the privacy laws may not be as comprehensive as those in the country where you reside and/or are a citizen.  We collect and transfer to the United States only Information, including personal data, with your consent; to perform a contract with you; or to fulfill a compelling legitimate interest of Rivers Casino in a manner that does not outweigh your rights and freedoms.  We endeavor to apply suitable safeguards to protect the privacy and security of your personal data and to use it only consistent with your relationship with us and the practices described in this Privacy Policy.  We may enter into data processing agreements and model clauses with vendors whenever feasible and appropriate. 
CHANGES TO THIS PRIVACY POLICY
We reserve the right to make changes to this Privacy Policy and to our information gathering and dissemination practices.  If we decide to change this Privacy Policy, which we may do at any time without notice to you, we will update the "Last Updated Date" and any such changes will be effective upon posting.  It is your obligation to check our current Privacy Policy for any changes.  
HOW TO CONTACT US
For privacy related questions or requests, to register a complaint, or if you want more information, contact us at [email protected], call us at 888-307-0777, or contact us by mail at:
Rivers Casino
3000 S. River Road
Des Plaines, IL 60018