Press
RIVERS CASINO PITTSBURGH CONTINUES MONTHLY PROMOTIONS AND ENTERTAINMENT FOR OCTOBER
Rivers Casino
Press Release
Sep 30, 2020
FOR IMMEDIATE RELEASE
RIVERS CASINO PITTSBURGH CONTINUES MONTHLY
 PROMOTIONS AND ENTERTAINMENT FOR OCTOBER
Celebrate black & gold and other fall colors at the North Shore hotspot
PITTSBURGH — Sept. 30, 2020 — Join Rivers Casino Pittsburgh in October for monthly gaming promotions and live entertainment. Enter the "Over $100,000 Perfect Pick Weekly Challenge" for a chance to win the Progressive "Top Cash" prize, enjoy live DJs in the BetRivers Sportsbook on weekends, or head to one of several on-property dining options—now with added capacity.
BetRivers Sportsbook
Great Gridiron Watching and More — The Sportsbook at Rivers Casino will be showing every available NHL, NBA and MLB game for the remainder of the year, as well as every available NFL game. Writer windows are open during select times, and kiosks are open 24/7.
Event Center Viewing Parties — Settle in with us on Sundays! Every Sunday starting at noon in The Event Center, guests can view the 1 p.m. and 4 p.m. NFL games on four 275" screens. Food and beverage, including soft pretzels, walking tacos, sliders, and Nathan's Famous all beef hot dogs, will be available for purchase. With two betting kiosks in the room, guests can also place their bets. The viewing parties will be on a first come, first served basis.
New Comps Heat Up in Time for Cooler Temps — BetRivers Sportsbook at Rivers Casino Pittsburgh is offering a new rewards program that's unmatched in Pennsylvania. With Rush Rewards Players Club Cards, sports fans who accumulate $1,000 in bets will earn $5 in comp points to be used throughout the casino. After placing bets and accumulating points, Players Club Members can customize how the comps are redeemed. Choices include Free Slot Play and complimentary dining at Rivers Casino restaurants.
Entertainment
Live DJs — Visit BetRivers Sportsbook in October to hear live DJs every Friday and Saturday night from 7 p.m. to 1 a.m.
Oct. 2 & 17: DJ Digital Dave; Oct. 3 & Oct. 30: DJ NIN; Oct. 9 & 16: DJ Rambo; Oct. 10: TJ The DJ; Oct. 23 & 24: DJ Cake
Indoor dining capacity at all Rivers' restaurants has now increased to 50%, per the Allegheny County Health Department and the Commonwealth.
Wheelhouse Bar & Grill — Wheelhouse Bar & Grill is the spot to catch any game while enjoying a delicious meal. Its hours are Monday to Thursday from 4 p.m. to 11 p.m., Friday and Saturday from noon to 11 p.m., and 11 a.m. to 11 p.m. on Sunday. Alcohol is available with meals only. A "2 for $25" menu is available every Monday, Tuesday and Wednesday, in which guests share the appetizer and dessert and each get to pick their own entree. Select items from the menu include Polish Hill nachos, buffalo chicken dip, chicken marsala, an 8 oz. New York strip, and seasonal cake for dessert. Outdoor patios are now open.
FLIPT — This "burger-mecca" has high standards when it comes to top-quality, fresh ingredients. Every Monday, Tuesday and Wednesday, show your Players Club Card for 20% off the menu. Notable burgers you won't want to miss include the "Breakfast Burger" with cherrywood smoked bacon, an over-easy egg and aged cheddar; the "Impossible Burger," which is the menu's plant-based veggie burger; and the unique "FLIPT Burger Wrap," which includes all the fixings, minus the bun. Alcohol is available with meals only. FLIPT is open Sunday through Thursday from 11 a.m. to 2 a.m., and Friday and Saturday from 11 a.m. to 3 a.m.
Mian — Mian offers quick-service authentic Asian cuisine for guests who want a delectable meal for dining in or carrying out. Every Monday, show your Players Club Card for 20% off the menu. Enjoy a variety of items, such as pork potstickers, Thai curry chicken, ramen and so much more. Alcohol is available with food purchase only. Mian is open from 5-11 p.m. Thursday through Monday, and is closed Tuesdays and Wednesdays.
Ciao — Ciao is open daily from 11 a.m. to 11 p.m. with a modified menu. Alcohol is available with food purchase only.
  
Hot Dog Cart — From noon to 8 p.m. Monday to Wednesday, and noon to 11 p.m. from Thursday to Sunday, a hot dog cart will be available for guests outside of Drum Bar. Alcohol is available with food purchase only. Hot dogs are $2 with Players Club Cards and $3 without. The cart also offers nachos, chips and soft drinks.
At all Rivers Casino restaurants, alcohol service will end at 11 p.m. There will be no alcohol service on the casino floor. Outdoor covered seating is available outside the main front entrance for takeout meals. Masks must be worn at all times, except when eating or drinking.
Floor Updates & Gaming Promotions
Gaming Floor Updates — The Rivers Clean Team continues to work around the clock to keep the casino safe and sanitized. Air filtration technology from airPHX® and AtmosAir™ runs 24/7 property-wide, continuously disinfecting surfaces and indoor air. As new information becomes available, Rivers Casino is committed to updating procedures to help reduce the spread of COVID-19. At this time, soft drinks, water and coffee are being served on the casino floor and in the Sportsbook. In addition, the smoking pavilion is currently located in the valet area. For the latest updates regarding health and safety protocols, please visit RiversCasino.com/Pittsburgh.
Over $100,000 Perfect Pick Weekly Challenge — Now through Sunday, Jan. 3, guests can earn an entry each week to pick the winners of that week's professional football games. If a guest selects all of the correct winners, they will win the Progressive Top Cash Prize which will grow by $7,000 each week if it isn't hit.
$10,000 Jackpot Drawing — Guests who win a taxable jackpot on a slot machine from 9 a.m. on Sept. 30 through 7:50 p.m. on Oct. 28 will receive an entry for the $10,000 Jackpot Drawings on Wednesday, Oct. 28, at 6 p.m. and 8 p.m. At each drawing, 10 guests will be selected to win a share of $5,000 in Free Slot Play.
Social Media
Twitter Tuesday — Every Tuesday in October, any guest who uses the Rivers Casino Pittsburgh hashtag #RiversTuesday will be entered into a random drawing to win $50 Free Slot Play.
Wheelhouse Wednesday — Every Wednesday in October, any guest who likes a photo on Rivers Casino Pittsburgh's Instagram will be entered into a random drawing to win a $50 gift card to Wheelhouse.
Facebook Friday — Every Friday in October, any guest who answers the trivia question on Rivers Casino Pittsburgh's Facebook page correctly will be entered into a random drawing to win $25 Free Slot Play.
To stay up to date on all entertainment, gaming promotions, rules and regulations, stop by the Rush Rewards Players Club or visit RiversCasino.com/Pittsburgh.
###
MEDIA CONTACT:
Hunter Dougherty
For Rivers Casino Pittsburgh
267-884-2307
[email protected]
YOU MAY ALSO LIKE...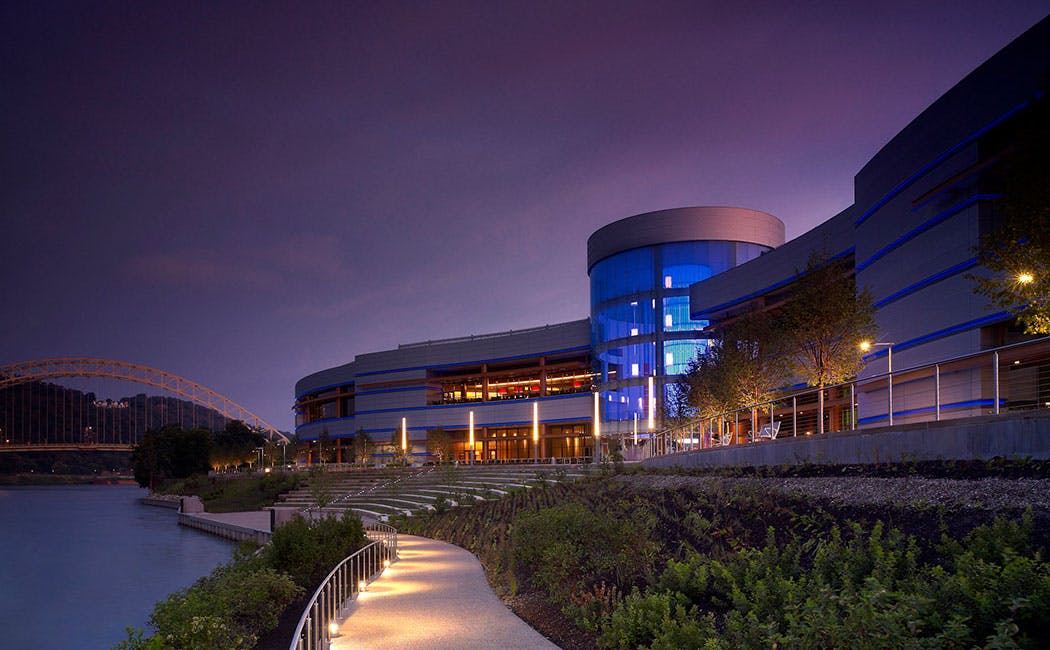 THIS APRIL, RIVERS CASINO PITTSBURGH MOVES TO 7...
Effective April 4, Rivers Casino Pittsburgh's maximum occupancy limit increases to 75 percent, as does the indoor din...
Read more