$18,000 PlayMaker Challenge
Weekly football challenge!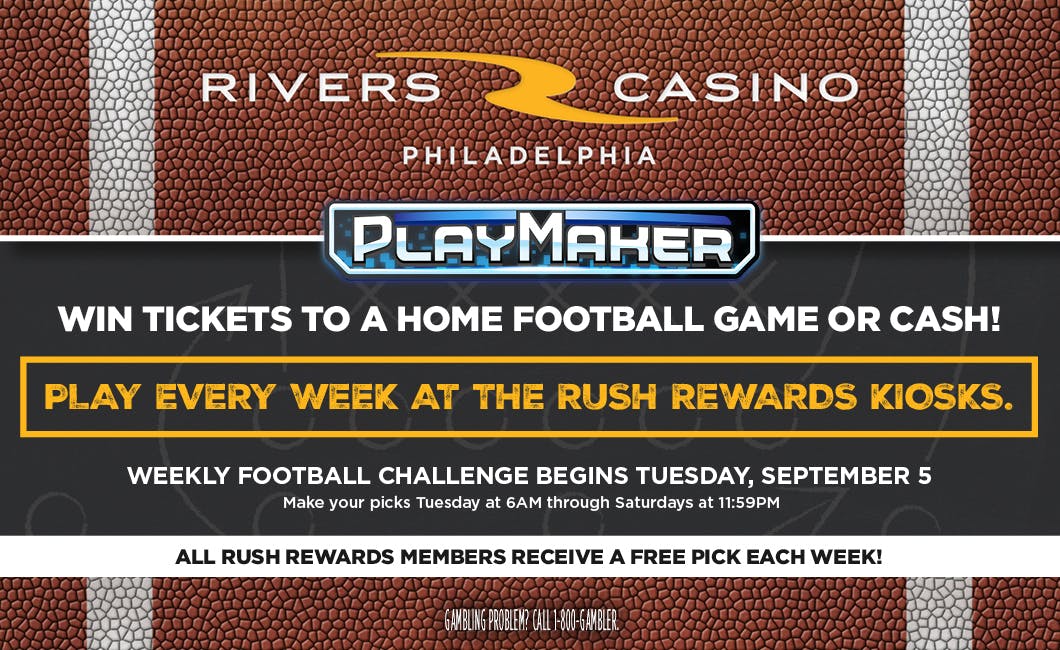 Week 2 Winner: Michael Blinn
Win tickets to a home football game, free play, or cash! Play every week at the Rush Rewards Kiosks. All Rush Rewards Members are allowed 1 pick per week.
-Each week from Tuesday 6AM until Saturday 11:59PM Rush Rewards Members receive one (1) free selection to pick who they believe will be the winning teams for each week of regular football season.
-1 winner each week
-Winner receives a choice between a pair of Philadelphia home game tickets, free play, or a cash prize
-Winner will be posted on the website and Instagram stories every Tuesday by noon
-Prize must be claimed at Rush Rewards by noon on Tuesday of the following week
How it works:
Step 1: Swipe Rush Rewards Card on a Rush Rewards Kiosk and select the "PlayMaker" icon. Select "Make A Pick".
Step 2: Participants can select their picks for the week by either one of three options;
1) QUICK PICK – picks are selected at random
2) HOME PICKS – picks will be all the teams playing at their home arena that week
3) MANUAL – picks are determined and selected by the player
After choosing their teams, participants must select the "NEXT" icon.
Step 3: Participants will be asked to select a combined score total for the week's designated tie-breaker game.
Step 4: Participants will be shown a page summarizing their picks. After selecting the "CONFIRM" icon participants will receive their picks via a kiosk ticket.
1. Winners do not need to be present to win; Weekly winner will be posted on the website www.Rivers Casino.com/philadelphia every Tuesday by 12 NOON. The winner's name will be available at Rush Rewards if the patron is present on property.
2. Winners have until 12PM Noon the following Tuesday to collect their prize at Rush Rewards; unclaimed prizes will be forfeited. Offer is non-transferable.
3. Weekly winners must print a kiosk ticket from a Rush Rewards kiosk and take it to Rush Rewards.
4. The weekly winner is determined based on their overall number of correct weekly picks.
5. All picks must be selected prior to 11:59PM EST on Saturdays to be eligible for the current week's prize (unless otherwise indicated on special weekly rule chart)
6. Only one free pick ticket is available per person for each week; Offer is non transferable.
7. In the event of a tie game, the game counts as a win for both teams.
8. In the event of a game cancellation, the game will not be counted toward the total number of picks for the week.
9. Each week a designated NFL game will be selected to serve as the tiebreaker for the week.
10. In the event that the designated tiebreaker game is canceled the winner with the earliest
pick date and time will be ranked higher.
11. The score selected for the tiebreaker game will determine who ranks higher between participants who select the same number of winning teams. The participant who chooses a score closest to the final combined total score of the two teams in the tiebreaker game will be ranked higher for that week.
12. If multiple winners select the same number of winners and have the same tiebreaker score, the winner with the earliest pick date and time, per the time stamp in EVERI, will be ranked higher for that week.
13. If there are multiple winners, the cash prize value will be split by the number of winners
14. Once a printed ticket is received, picks are locked in and participants cannot re-select.
15. The Playmaker Football Challenge promotion excludes Thursday and Saturday NFL Football games (Promotion is based on the NFL's regular season schedule).
16. Promotions Management reserves the right to change, alter, or cancel this promotion at any time.