Night of 102 Winners
Play to win a share of $25,000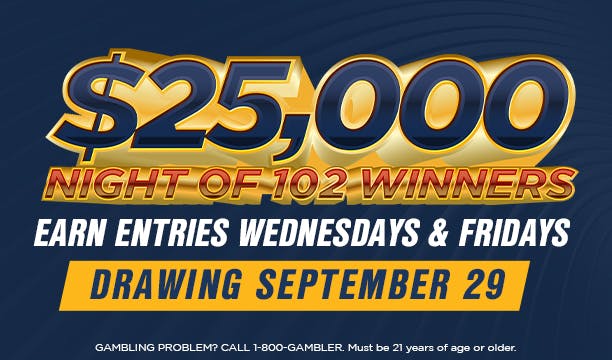 Rush Reward Members will have Wednesdays and Fridays 12:00AM - 11:59PM in September starting September 13th, to earn entries into the Night of 102 Winners drawing on September 29th, 2023. 
Every 20 points earned is one (1) entry into the drawing. 
Earn 3x entries every Wednesday.
The Night of 102 Winners drawing will be from 6PM - 11PM on September 29th. 10 winners will be called every 30 minutes from 6PM - 10:30PM. Each winner will receive $200 in free slot play. 1 winner will be announced at 11PM for $4,000 free slot play and 1 winner will be announced for $1,000 in Free Slot Play. 
Deposit entries beginning at 5PM on Friday, September 29th.
All Rush Reward Members with entries will be eligible for the 11PM grand prize, regardless if they won earlier in the evening. 
Management reserves the right to cancel or modify this promotion at any time. Official promotion rules available at Rush Rewards.