Thanksgiving Ready-Made Meals
Time
Tuesday, NOV 21: 4PM-8PM Wednesday, NOV 22: 12PM-4PM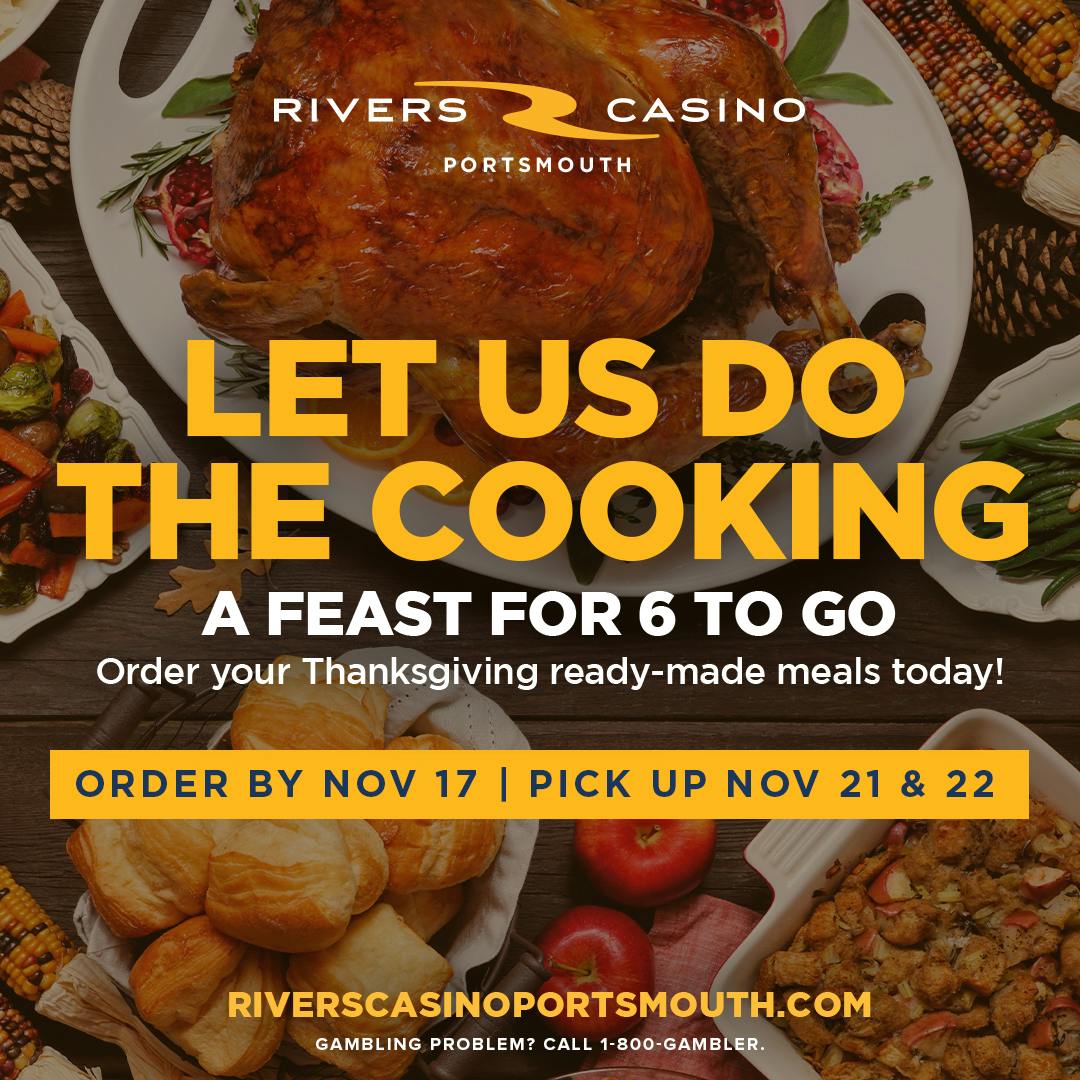 Indulge in the joy of the season without the stress of cooking! We are thrilled to offer exquisite Thanksgiving Ready-Made Meals, crafted with love and care, and ready to grace your holiday table.
Why Choose Rivers Casino Portsmouth's Thanksgiving Meals?
Delicious Variety: Our culinary experts have curated a mouthwatering menu that captures the essence of Thanksgiving.
Convenience: Enjoy a hassle-free holiday with our ready-made meals, leaving you more time to savor moments with loved ones.
Quality Ingredients: We source the finest ingredients to ensure your Thanksgiving feast is not only convenient but also a culinary delight.
Highlights: (Serves up to 6 people)
This Thanksgiving, savor the flavors of our expertly prepared menu:
Succulent turkey breast, roasted to perfection and adorned with a golden, crispy skin Rich and flavorful gravy, crafted from the natural drippings of our herb-roasted turkey. A delightful blend of cornbread and aromatic herbs creates a stuffing that perfectly complements the turkey. Fresh green beans sautéed to tender perfection with savory garlic. Creamy Yukon gold potatoes mashed with butter and garlic for an amazing side dish. A delightful blend of sweetness and citrus notes to accompany your turkey. Soft, fluffy rolls, generously brushed with butter for the perfect finishing touch.
How It Works:
Order by November 17: Secure your Thanksgiving feast by placing your order before 11:59 PM on November 17. Don't miss the chance to elevate your holiday celebration with our chef-inspired creations.
Pickup Details:
Date: Tuesday, November 21 Time: 4:00 PM - 8:00 PM
Date: Wednesday, November 22 Time: 12:00 PM - 4:00 PM
Plan your pickup according to your convenience, and let us handle the kitchen details.
Pricing Details:
$150 (including taxes and fees) for a complete Thanksgiving Ready-Made Meal.
Thanksgiving Ready-Made meals must be picked up on date chosen. Ready-Made meals not picked up on specified date will be considered forfeited.