Pop 2000 Tour
LIVE AT RIVERS CASINO
DATE & TIME
FRIDAY, SEPTEMBER 9 | 7PM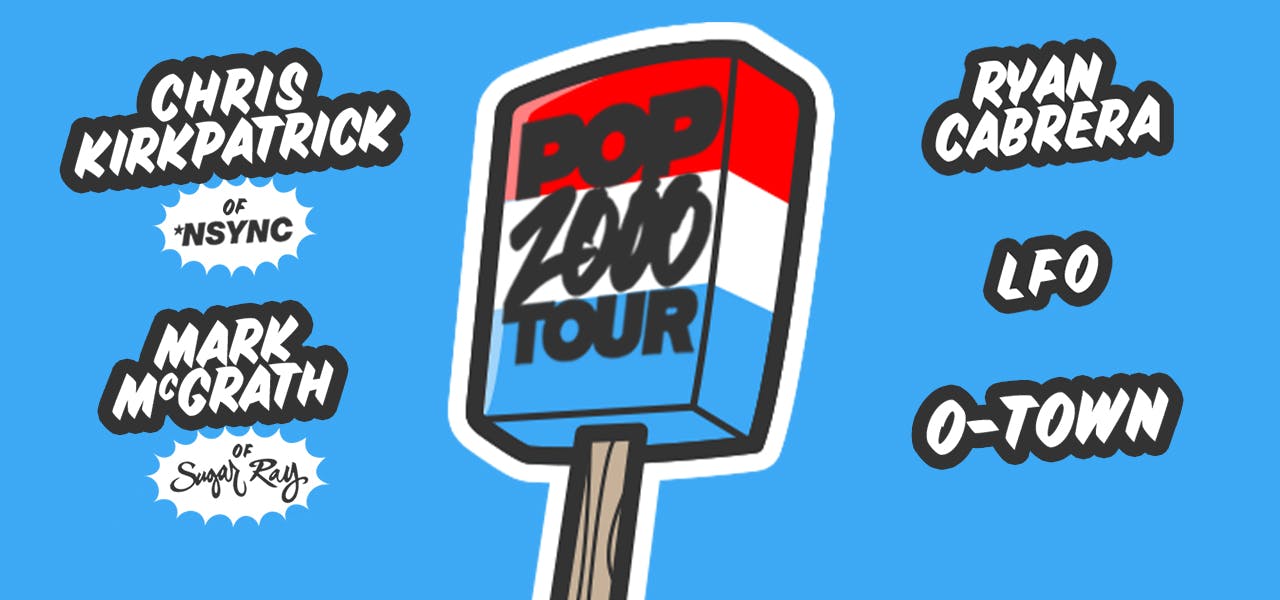 Who says throwbacks are reserved for Thursdays? The Pop 2000 Tour delivers TRL moments that will bring you right back to the early 2000s.
Pop 2000 Tour hosted by Chris Kirkpatrick of *NSYNC will make its way to The Event Center at Rivers Casino Pittsburgh on Friday, Sept. 9, at 7 p.m. The concert features performances by platinum-selling POP2K artists Mark McGrath of Sugar Ray, O-Town, Ryan Cabrera, and LFO. Tickets are on sale now and start at $19.     
"The 2000s were such a fun, time in pop music," said Shannon Redmond, vice president of marketing at Rivers Casino Pittsburgh. "We're excited to welcome founding members from some of the biggest groups of that decade to our Event Center in September. Our guests are in for a night of great music with all of these artists."
The Pop 2000 Tour
Chris Kirkpatrick is an American singer, dancer, actor, and voice actor who is best known for his work as a founding member of the pop group *NSYNC. As a voice actor, he has worked on numerous kids shows, including voicing the character of Chip Skylark on "The Fairly OddParents." In 2022, he competed in Season 3 of "Celebrity Big Brother."
Mark McGrath is an ever-present pop culture personality known for a string of top 10 hits and several multi-platinum albums as the lead singer and songwriter for Sugar Ray. With his first hit single "Fly," Mark McGrath set the stage with new sounds that pop rock audiences had never heard before. He went on to land hit singles "When It's Over," "Someday," and another number one smash hit with "Every Morning."
O-Town's story began in 1999, when "Making the Band" chronicled the rise to success of O-Town throughout three seasons of the series on both ABC and MTV. The group's first two full-length albums included #1 singles, "Liquid Dreams" and "All or Nothing" and the Top 40 hit "We Fit Together." "All or Nothing" was nominated for Song of the Year at the Radio Music Awards in 2001.
Ryan Cabrera is the singer and songwriter behind ubiquitous smashes such as "On the Way Down," "True" and "Shine On" as well as albums including 2004's Take It All Away, which hit #8 on the Billboard Top 200. Ryan was also featured heavily on MTV's "Ashlee Simpson Show" and "The Hills."
LFO burst onto the scene in 1999 with the #1 smash hit "Summer Girls" and followed with another top-five hit in "Girl on TV" and the top-ten hit, "Every Other Time." Today, lone surviving member Brad Fischetti keeps the name of LFO alive, performing the songs to fans, new and old.
Must be 21 years of age or older to be on Rivers Casino property. No refunds.