The Gang's All Here
SKID ROW & WARRANT LIVE IN THE EVENT CENTER
DATE & TIME
Friday, April 14 | 7PM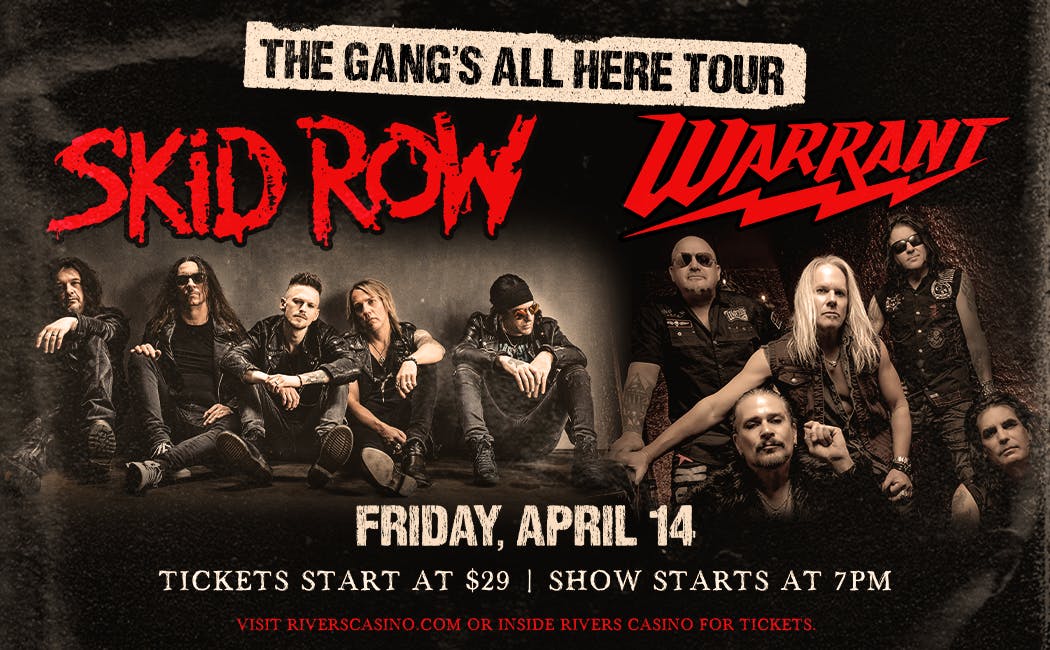 Skid Row
New Jersey based rockers Skid Row arrived on the scene in the late-1980s during the hard rock craze and quickly became a predominant force in the genre. Their youth, ambition, and knack for writing catchy songs helped attract a worldwide following. Since their debut album Skid Row has generated multi-platinum success and massive radio hits including "18 and Life," "Monkey Business," "I Remember You," and "Youth Gone Wild." Skid Row's career has taken them from their humble beginnings to selling millions of tickets and headlining festivals all over the world. Skid Row recently released their 6th studio album, The Gang's All Here, in October of 2022. Produced by Grammy Award-winning producer Nick Raskulinecz, the album reached Top 20 chart positions in nine countries worldwide. 
Warrant
At its core, Warrant is an American rock band through and through. Hitting it big in 1989, the Hollywood, CA based band rose through the ranks of the local Sunset Strip scene to the level of multiplatinum selling, chart-topping success. The band first came into the national spotlight with their debut album Dirty Rotten Filthy Stinking Rich. This album produced Radio and MTV chart toppers "Down Boys," "Sometimes She Cries," and the massive hit "Heaven" which reached #1 in Rolling Stone and #2 on the Billboard Hot 100 for two weeks in a row. The single "Heaven" enjoyed Gold sales and the Album went Platinum in Canada as well, eventually selling over 3 million copies. The band toured the globe performing 262 shows in support of DRFSR and closed the year with a Platinum Home Video.
Must be 21 years of age or older to be on Rivers Casino property. No refunds.