WIN A BRAND NEW BMW X5!
Road to Winning Sweepstakes Saturdays in May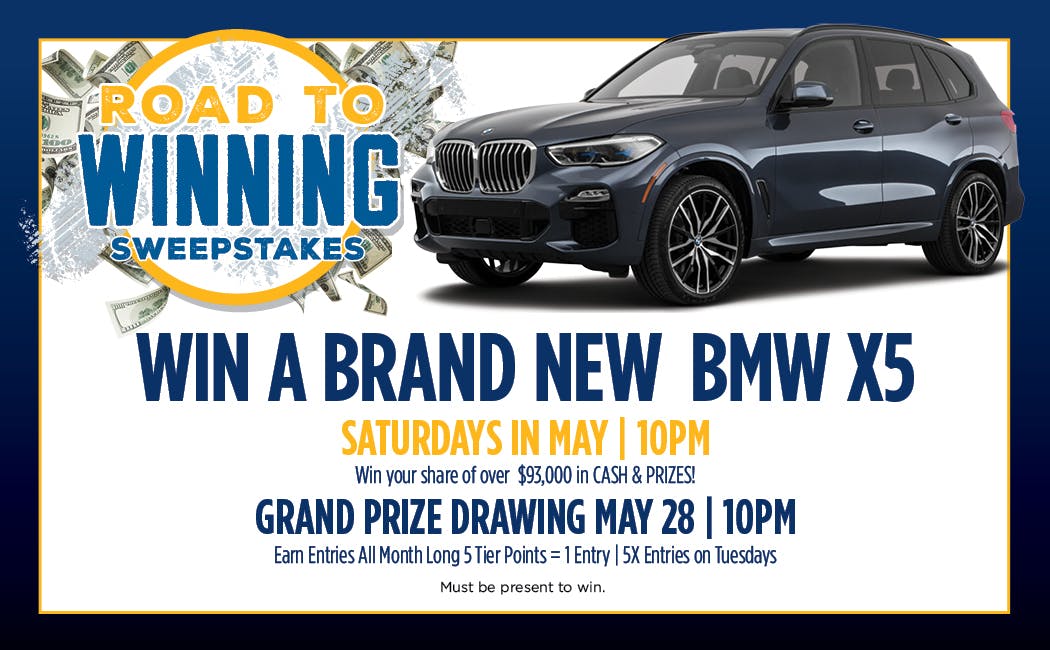 WIN A BRAND NEW BMW X5!
Win your share of over $93,000 in CASH & PRIZES!
All Rush Rewards Members can earn entries all month long on Slots & Tables from 6AM on Tuesday, May 1st - 9:45PM on Saturday, May 28th.
Entries will roll over week over week. 5 Tier Points = 1 Entry.
Additionally, all Rush Reward members will earn 5X drawing entries on Tuesdays in May.
Each Saturday in May, guests must activate their entries at any Rush Rewards kiosk from 8PM to 9:45PM. Then, on May 7, 14, 21, 6 winners will be selected and announced at 10PM. In the order in which they appear, winners will select their choice of toy car. Each car will be a different color that will reflect on an envelope on our game board. Each envelope will reveal a different prize (Free Play or a Cash Prize with a spot in our finale drawing).
The winner that selects the "Finale Spot" envelope will win $1,000 in cash with a spot in our Grand Prize Drawing taking place on Saturday, May 28th at 10PM where they will have a 1 in 6 shot at winning a BMW X5!
Then, on Saturday, May 28th, at 10PM, we will call up our 3 "finale spot" winners from the previous 3 weeks.
Additionally, we will randomly select 3 addition "final spot" winners from the drum - for a total of 6 winners. All 6 winners will select a toy car to play the game one more time, each envelope will reveal a prize, with one being the brand new BMW X5!
Must be present to win. Winners will have 5 minutes to claim their prize at the promotional stage located in front of the Sportsbook.
Winners are not eligible for multiple wins per drawing date. All cash winners must complete a winners ticket for payment. Vehicle Color/model may vary from display vehicle shown.
All participants and winners must have a Rush Rewards Card and present valid picture identification in order to be eligible.
Management reserves the right to change or cancel this promotion at any time.