WIN A BRAND NEW JEEP GRAND CHEROKEE!
Road to Winning Sweepstakes Saturdays in June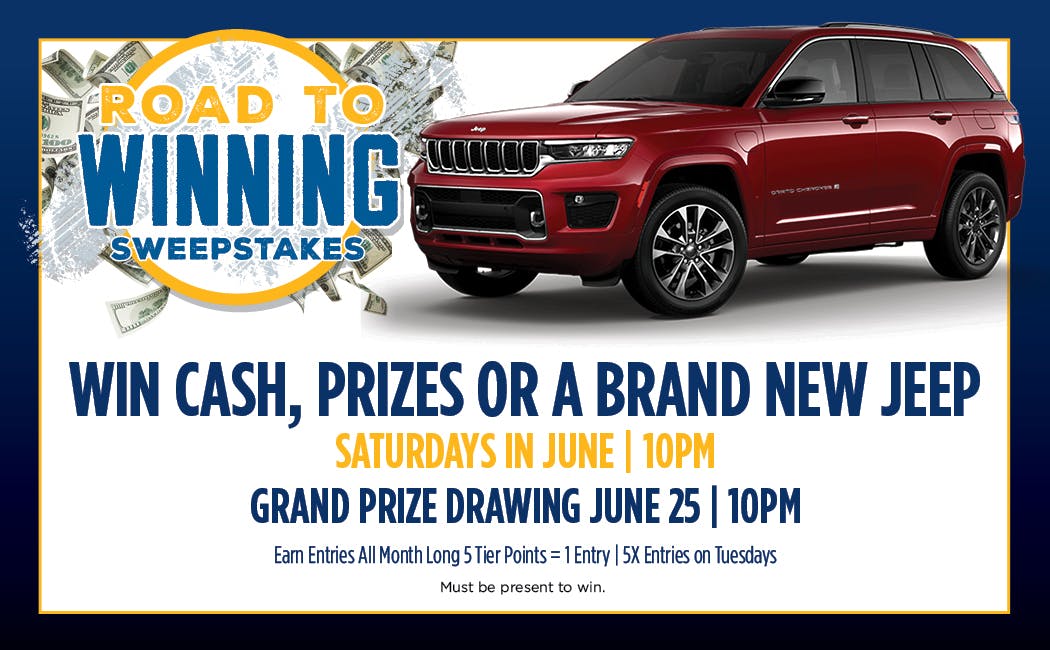 WIN A BRAND NEW JEEP GRAND CHEROKEE OVERLAND!
Win Cash, Prizes or a Brand New Jeep!
All Rush Rewards Members can earn entries all month long on Slots & Tables from 6AM on Wednesday, June 1st - 9:45PM on Saturday, June 25th.
Entries will roll over week over week. 5 Tier Points = 1 Entry.
Additionally, all Rush Reward members will earn 5X drawing entries on Tuesdays in June.
Each Saturday in June, guests must activate their entries at any Rush Rewards kiosk from 8PM to 9:45PM. Then, on June 4, 11, 18, 6 winners will be selected and announced at 10PM. In the order in which they appear, winners will select their choice of car cleaning item. Items will be different and reflect on an envelope on our game board. Each envelope will reveal a different prize (Free Play or a Cash Prize with a spot in our finale drawing).
The winner that selects the "Finale Spot" envelope wins $2,500 in cash with a spot in our Grand Finale Drawing taking place on Saturday, June 25th at 10PM where they will have a 1 in 6 shot at winning a Jeep Grand Cherokee Overland!
Then, on Saturday, June 25th, at 10PM, we will call up our 3 "finale spot" winners from the previous 3 weeks.
Additionally, we will randomly select 3 addition "final spot" winners from the drum - for a total of 6 winners. All 6 winners will select a car cleaning item to play the game one more time, each envelope will reveal a prize, with one being the brand new Jeep Grand Cherokee Overland!
Must be present to win. Winners will have 5 minutes to claim their prize at the promotional stage located in front of the Sportsbook.
Winners are not eligible for multiple wins per drawing date. All cash winners must complete a winners ticket for payment.
All participants and winners must have a Rush Rewards Card and present valid picture identification in order to be eligible.
Management reserves the right to change or cancel this promotion at any time.