FRIDAYS & SATURDAYS IN
SEPTEMBER
$88,000 River of Clubs Sweepstakes
Win your share of up to $88,000 in Cash & Free Slot Play Fridays and Saturdays in September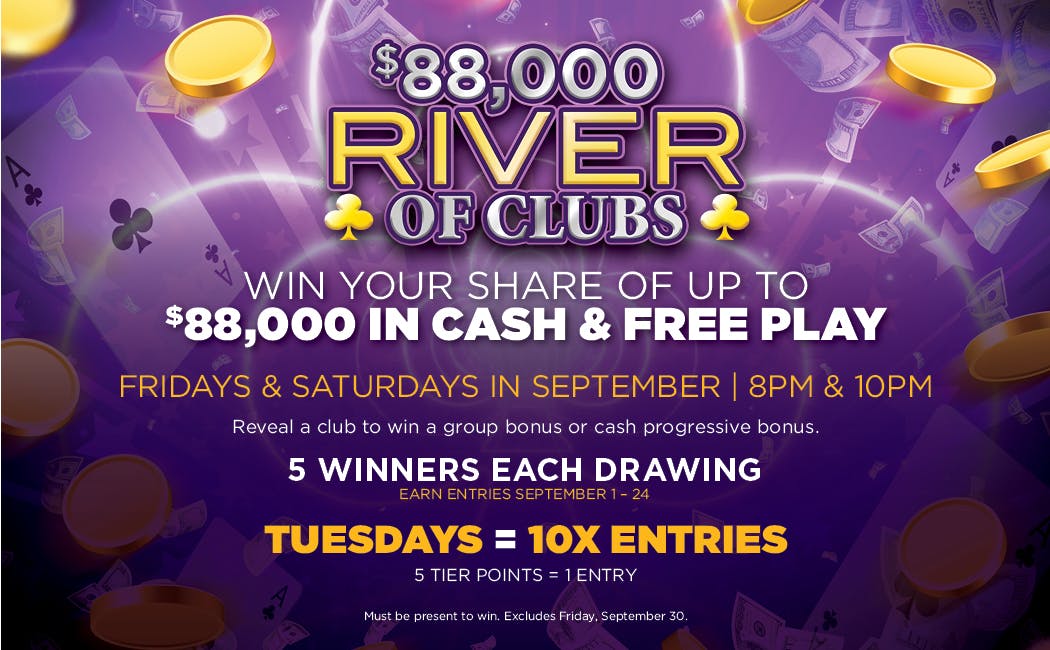 WIN YOUR SHARE OF UP TO $88,000 IN CASH & FREE SLOT PLAY
All Rush Rewards Members can earn entries all month long on Slots & Tables from 6AM on Thursday, September 1st - 9:45PM through Saturday, September 24th.
Entries will roll over week over week. 5 Tier Points = 1 Entry.
Additionally, all Rush Reward members will earn 10X drawing entries on Tuesdays in September.
Each Friday and Saturday in September except (30th), guests must activate their entries at any Rush Rewards kiosk from 7PM to 9:45PM. Then, 5 winners will be selected and announced at 8PM and 10PM. Winners will have 5 minutes to claim their prize at the promotional area located in front of the Sportsbook. In the order in which they are called, winners will choose an envelope from our River of Clubs board. Prizes range from $250 to $2,500 in cash and Free Slot Play.
The progressive prize will start at $2,000, increasing by $100 every person drawn. If an envelope reveals a Club on the front, that player will receive the current progressive cash prize. The progressive prize may only be won up to once per weekend. Once the club is chosen, the progressive prize will restart at $2,000 the following drawing day (Friday/Saturday). There will be clubs on the reverse side of the insert. Each time one of the prizes is awarded and has a club on the reverse, then add the club to the back of the game board, each person gets a $100 bonus Free Slot Play.
Must be present to win. Winners will have 5 minutes to claim their prize at the promotional stage located in front of the Sportsbook.
Winners are not eligible for multiple wins per drawing date. All cash winners must complete a winners ticket for payment.
All participants and winners must have a Rush Rewards Card and present valid picture identification in order to be eligible.
Management reserves the right to change or cancel this promotion at any time.