FRIDAYS & SATURDAYS IN
NOVEMBER
$88,000 Feathers of Fortune
Win your share of over $88,000 in cash and free play!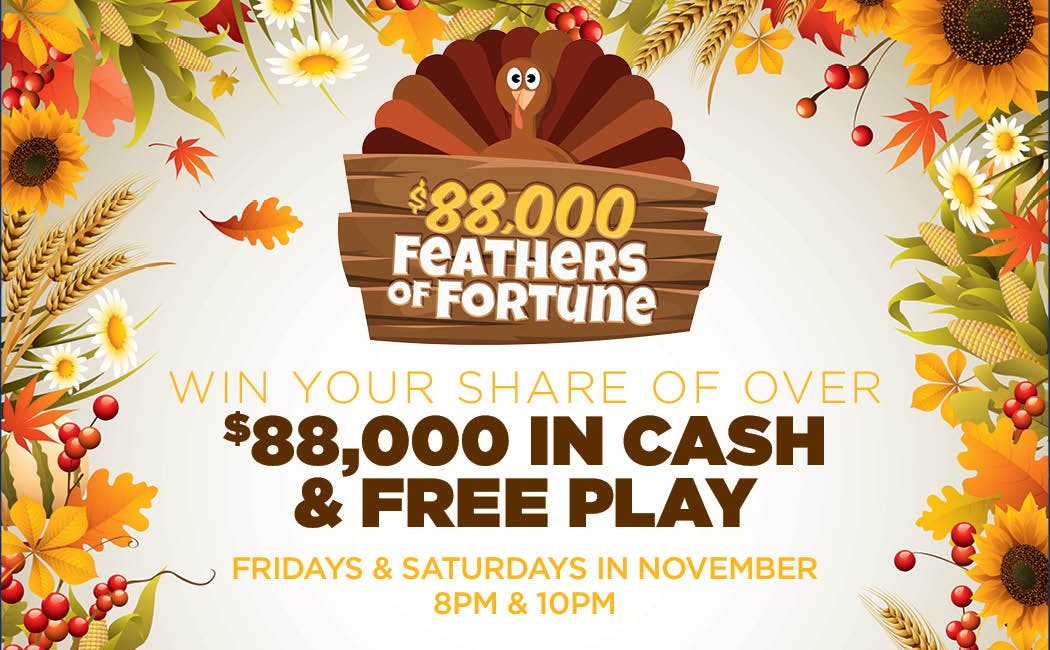 Our $88,000 Feathers of Fortune casino promotion is back!
Starting 6AM October 29th through 9:50PM November 25th, Rush Rewards Members can earn entries on slots and table games for this Philly casino promotion. Guests can activate their entries every Friday and Saturday in November at any Rush Rewards Kiosks from 7PM - 9:50PM. 
How it works: At 8PM and 10PM 5 winners will be selected to participate in our casino promo. Winners will have the chance to win $300 - $3,000 in cash and prizes! Participants will select an envelope that contains a variable for either a cash prize or a free slot play prize. If a participant selects an envelope that has a turkey inside, they will be able to pick another envelope, plus all winners will receive $500 in free slot play!
Winners have 3 minutes to report to the promotional area.
Patron's cannot receive entries by earning Tier points from Poker or Sportsbook.
1. Must be 21 years or older to participate.
2. Subject to all applicable federal, state and local laws and regulations, including gaming laws, regulations and subject to approval of the appropriate regulatory authorities. Void where prohibited or restricted by law.
3. No purchase necessary to participate. Rush Reward membership is free and available to any eligible member of the public at Rush Rewards.
4. All participants and winners must have a Rush Rewards account and present valid picture identification (driver's license, state identification card, current passport, alien registration card or military identification card) in order to be eligible.
5. At promotions management's discretion, if a participant is unable to provide proper identification immediately, they may be permitted to participate in the promotion or drawing; the prize won will not be awarded until proper identification is verified. The participant will have 72 hours to provide their identification based on promotions management discretion.
6. Promotions management reserves the right to add, qualify, or make eligible any Rush Rewards member at any time.
7. Participants may only be called once per drawing and/or event in a drawing day unless otherwise stated in the Promotional Rules.
8. At promotions management's discretion all advertised cash prizes may be offered in an approved Free Play value.
9. Rivers Casino Philadelphia is not responsible for lost, stolen, misplaced, or damaged direct mail, drawing entries, coupons and merchandise.
10. Offers, prizes, invitations, vouchers, game pieces, and entries are non-refundable and non-transferable. Winners are responsible for any and all taxes, licenses, registrations and other fees. Gambling Problem? Call 1-800-GAMBLER
11. Must be present to win unless otherwise noted in the Promotional Rules.
12. If the winner does not claim, redraw will occur unless noted in the Promotional Rules.
13. In the event of a conflict between these General Rules and the specific individual Promotional Rules, the specific individual Promotional Rules shall apply.
14. Tier Points, Rewards Points and/or Entries may be earned based on rated play; Participants must have their Rush Rewards Card properly inserted and active at any slot or electronic table game or have an active open rating at any table game or have been rated in the Sportsbook in order to receive any points or entries.
15. Reward Points expire after 6 months of inactivity on the participant's Rush Rewards account.
16. Free Slot Play will be loaded to participant's Rush Reward Card. Free Slot Play must be downloaded at any Slot Machine by 12Midnight and will be available on participant's account for 24 hours from the time of activation. Free Slot Play $500 or over must be used within 30 days of issue date unless otherwise noted by promotions management discretion; Free Slot Play is not redeemable for cash.
17. Rivers Casino Philadelphia-Match Play Coupon are valid on Table Game wagers that result in even Money payoff (1 to 1). The "coupon" portion pays even money and the "match" portion pays in accordance to the rules of the game. Roulette outside bets (paying 1 to 1), Blackjack, Blackjack based specialty or Spanish 21 (initial wager only), Craps (pass/don't pass wager only), Carnival Poker type (Ante Only), Baccarat type games (Player or Bankers side only). Coupons may NOT be used to wager on bonus or side bets of any game type. ONLY 1 COUPON PER ROUND OF PLAY and 1 COUPON PER PATRON PER WAGER. Example: only one coupon allowed on the table per round.
18. Rivers Casino Philadelphia Match Play Coupon is valid for one wager only, is non-transferable, has NO cash value and only one coupon per wager.
19. Valid only at Rivers Casino Philadelphia. The "coupon" portion pays even money. The "match" portion of all bets is paid in accordance with the rules of the gameOffer is not transferable; Invited participants must be present to receive an offer.
20. In the event inventory runs out, a predetermined amount of Free Play or Reward Points may be given to invited participants in lieu of the gift based on promotions management discretion.
21. Cash prizes or prizes valued over $250 may only be picked up by the winning participant with proper non-expired identification and social security number by filling out the required winners ticket.
22. If promotion is 1099 reportable, winners of prizes over $600 are required to fill out a W9 form.
23. Winners agree to allow Rivers Casino the unconditional use of their name and likeness for promotions/advertising and announcements without compensation, consideration, notice, review, or consent, where permitted.
24. Rivers Casino Philadelphia may disqualify any person for any prize based upon fraud, dishonesty, violation of promotional rules or other misconduct whether or not related to this promotion.
25. Rivers Casino Philadelphia is not responsible for lost, late, mutilated, or illegible game pieces, entries or promotional vouchers, nor for electronic transmission errors, or delays resulting in omission, interruption, deletion, defect, delay in operations or transmission, or for technical, hardware, software failure of any kind, lost or unavailable connections, fraud, incomplete, or delayed computer transmissions, whether caused by Rivers Casino Philadelphia users, or by any of the equipment or programming associated with or utilized in the promotion or by any technical or human error which may occur in the processing of submissions which may limit, restrict or prevent a participant's ability to participate in the promotion.
26. If for any reason the promotion is not capable of running as planned, including infection by computer virus, tampering, unauthorized intervention, fraud, technical failures, or any other causes within or beyond the control of Rivers Casino Philadelphia which corrupt or affect the administration, security, fairness, integrity, or proper conduct of this promotion, Rivers Casino Philadelphia reserves the right at its sole discretion to cancel, terminate modify or suspend the promotion.
27. Individuals who are excluded from casino facilities, either through a government program or by their own request or Rivers Casino Philadelphia's discretion, are not eligible. Employees of Rivers Casino Philadelphia are not eligible. Additionally, immediate family members of employees in Marketing, Finance, Information Technology and Audit departments including their spouse, mother, father, brother, sister, children and persons residing in the employee's place of residence are not eligible.
28. Promotions management reserves the right to change or cancel this promotion at any time. All decisions regarding the interpretation of rules, eligibility, etc. lie solely with Rivers Casino Philadelphia whose decisions are final.
29. Rivers Casino Philadelphia is not liable in the event of an equipment, system, technological, kiosk or slot machine malfunction, and all prior play is voided.
30. Rivers Casino Philadelphia is not liable for injuries or losses arising or resulting from participation in the promotion and is not liable for any acts or omissions by employees, whether negligent or willful, in the conduct of the promotion.
31. By participating in this event, participants agree to the rules set forth by Rivers Casino Philadelphia.
32.A copy of the rules and any changes will be available at Rush Rewards and/or contacting the Marketing Department throughout the duration of the event.